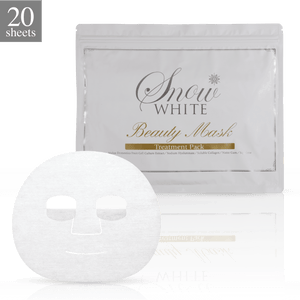 The phantom "non-perishable apple" attacks the age sign!
Contains PTC apple extract and plant stem cell extract to suppress skin oxidation for a youthful impression. A sheet mask with excellent moisturizing and soothing properties that contains plenty of natural moisturizing ingredients such as marine collagen, hyaluronic acid, and fermented soybean extract.
Internal capacity
20 sheets / 215mL
how to use
After applying lotion and serum, spread the sheet mask over the entire face and leave it for 5 to 10 minutes. Gently massage the essence left on the skin.
All ingredients
Water, glycerin, DPG, BG, water-soluble collagen, sodium hyaluronate, squalane, apple fruit culture cell extract, aloe vera leaf extract, lecithin, nutto gum, xanthan gum, citric acid, sodium citrate, PEG-30 hydrogenated castor oil, PEG -60 Hydrogenated castor oil, ethanol, phenoxyethanol, methylvalaben